پنجشنبه 6 آبان 1389 04:29 ب.ظ
نویسنده :
tiTi jo0n
سلام
خوفین؟ خییییییییییییییلی دلو تنگیده بود با مدرسه رفته بودم لصفهان جاتون خالی خیییییییییییییییییلی حال داد اگه خواشتین بگین عکساشو آپ کنو بذارم تو وبم...
خب آپ امرئزم مال یه مصاحبه ی خییییییییییییییییلی باحاله... تازه خیییییییییییییییییییییییییییییییییییییییییییییییلیییییییییییییم جدیده!
حوصله نئاشتم ترجمش کنم ولی اگه تو نظرات بخواین حتما ترجمش میکنم:
No, you're not dreaming. Tokio Hotel will be in Lima next November 25th. You're not hallucinating. Your magazine, Zona Joven, had an interview with the twins, Bill & Tom Kaulitz, to talk about this concert. In this issue you will find their answers as well as the "Desafío Tokio" (Tokio Challenge), a challenge in which we put the fans into a competition for wining a preference entrance to the show.
Although we had insistent requests to publish a special Tokio Hotel supplement, he thought it would be more convenient to publish their interview and save the supplement for another time. We have to remind you that our challenge counts with a small quantity of tickets to win, that of course are not enough the enormous existing demand; that's why we recommend not to risk your assistance to this expected video and buy your entrance at Teleticket. Remember that raising hopes only on the contest it's not recommendable, this are always tied to chance.
We had always asked us how peruvian fans would react if they would be able to see Bill, Tom, Georg, & Gustav in person. We've only seen them screaming, singing and even crying with their videos, hearing their song or seeing their photos. But this story will have a radical change soon, this fandom will enjoy the experience of their lives when the german band performs this November 25th at the Jockey club. The best of all is that the very same TH guys share the anxiety abut performing in Lima, as Bill & Tom Kaulitz confirmed on a telephonic interview that now we share with you
ZJ: You peruvian fan club is the biggest of Latin America (more than 13,000 members) and they are always doing fan actions, tribute concerts, celebrate your birthdays and share the videos on the internet. What do you think of that? have you seen those videos?
Bill: We always see the videos that our fans all over the world put on the internet. In the case of Peru we are very excited because it's the first time we will be there and we want, finally, meet our peruvian fans. It's almost the same feeling that we had on our first tour in USA, it was very exciting having contact with the american fans, everything went ok and we are sure it would be the same in Peru.
Tom: It's exciting to see the things that fans are capable of and that the people is very happy about us going there. For us it's also a pleasure, since long ago we are wanting to play in Latin America.
Bill: And now we are doing it for the first time. I'm anxious about this very first magical moment in which we will meet our fans. Much more counting the positive reactions that we are having before the journey.
ZJ: This tour's concerts have a very futuristic style. How you got to that? Do you received any influence of other bands that had done something similar?
Bill: The "Humanoid" album picks up some elements of the science fiction and there comes the inspiration for the shows: our stage, the outfits that we use, etc. We've got inspiration on everything that is extraterrestrial, what's not from this world. That's the idea and the feeling that we want to share… There are plenty of things that we were wanting to do on stage and that this time we are able to. But basically, Welcome to Humanoid City's concept is an own inspiration, totally ours, that comes from us when we wrote the songs.
ZJ: From what you got inspired?
Bill: When you write a lot of images come to your mind, you imagine thing. it's like the small cinema of the imagination. We worked really hard to put all this ideas into practice for this tour, from the musical point of view as well as what we wanted to do on stage. For example, the guys are playing instrument that normally they don't play… There's a lot of work and practice in between, but luckily we're very pleased with the result.
ZJ: You fans from here love all the elements of your new tour. Is that what we can expect from your show here?
Tom: Some things are difficult to put on a plane and go. But definitely we are assembling a proper stage for the "Humanoid City". We are taking with us the special effects, the fireworks and the outfits full of electric wires.
ZJ: Some of your fans from Colombia, Ecuador and Argentina are coming to Lima to see you. Could you extend your show thinking on all the people that is coming?
Bill: We would love to say hi and welcome all this fans that are coming from other countries to see us in Lima, it's a pleasure that they do that, its fantastic see all the support they give us. It's very characteristic from our fans to say: "Ok, well, now we travel to another country to follow Tokio Hotel."
Tom: Don't be afraid. The show in Lima it's going to be spectacular for sure.
ZJ: All of you had changed your looks. Starting with you Bill. Are you more comfortable like this? Does it takes less time to prepare for a show?
Bill: Well, yeah. I have a new look with shorter hair, maybe in that sense I spend less time preparing myself. But I also have all this outfits with sorts of filigrees. There are lots of outfit changes for me in the show, and are clothes that shine and have huge batteries for them to turn on during it. Preparing all that requires lots of time, but I enjoy doing it.
ZJ: And you have like a ritual before the shows?
Bill: Yes, there's a ritual that we always do before going on stage, and that is that Georg goes to the bathroom and makes his business (lots of laughs) Somehow that's what brings us luck in each performance (laughs)…
ZJ: Some of the bands that visit our country go out to a disco or just to look the city after their shows. Are you thinking to do the same?
Tom: We try to see the cities that we visit, but sometimes we are not aloud because of the time. We hope to have the opportunity to do it in Lima.
Bill: Of course we're gonna try to see something. I have to admit that during the tour we have to be very disciplined because of our tight schedule, we don't have a lot of time, but definitely if we have a chance we will try to see something.
ZJ: Maybe you don't want to expose to much? Having in count the problems that you had with stalkers?
Bill: I guess that we do have had some bad experiences with stalkers in the past. There was also an incident with Gustav in a disco. But we are not worried thinking that something bad is going to happened if we go out. We are calm and we don't think that there would be any stalker.
ZJ: The permanent question for you fans here is: There would be a Meet & Greet with Tokio Hotel in Peru? It's possible for you to put pressure on the producers to make it happen?
Bill: (laughs) The truth is that we do make Meet & Greets, but only if the time before the shows allows us to. This is organized by the commercial partners and the media. It's still a little early to say what's gonna happen, but we hope that the production can make a contest or something so the winners can have a M&G with us.
ZJ: So, you are on the mood to do it?
Tom: Sure! besides, the fans are the ones who had taken us to where we are now and it's a pleasure to spend time with them. We always sing them something or take some photos. Although as any other person we also have days when are moods are a little down or we are busy with the job.
Bill: But we will never be rude with a fan. We love them so much because they support us and they're always transferring us energy.
ZJ: You are competing in the same MTV EMA's category with Muse, 30 Seconds to Mars, Green Day and Katy Perry. What do you thing about your musical rivals? For you, who is the most difficult rival?
Tom: About the EMA we have to say that we have the best fans on the world, or fans are excellent…and winning this nomination depends on the fan's votes. I'm pretty sure that we will receive a lot of support form our fanclubs all around the world . They've never abandoned us, so we trust that we are going to defeat the other nominees. Even when the competition is very strong.
ZJ: What would you say to your peruvian fans?
Bill: We can't wait the day we play for the first time in Peru, we want to see all of you that night. And we want to say hi to al the people of the magazine. Thank you very much.
اینا هم عکساشن: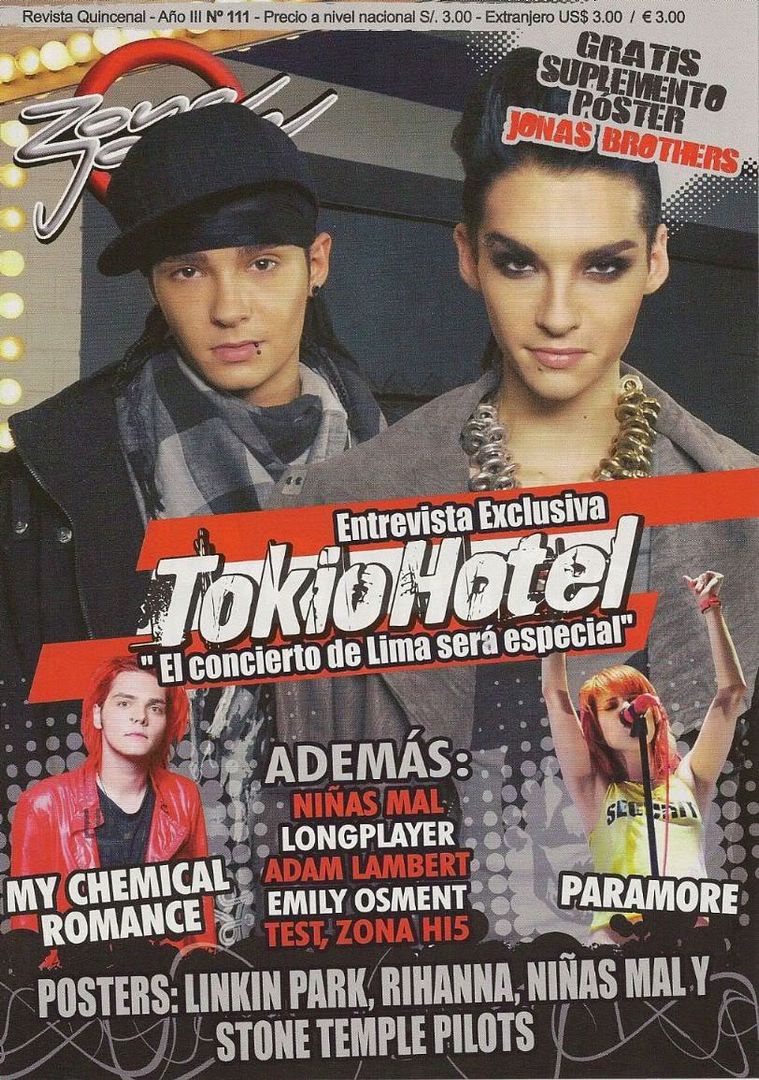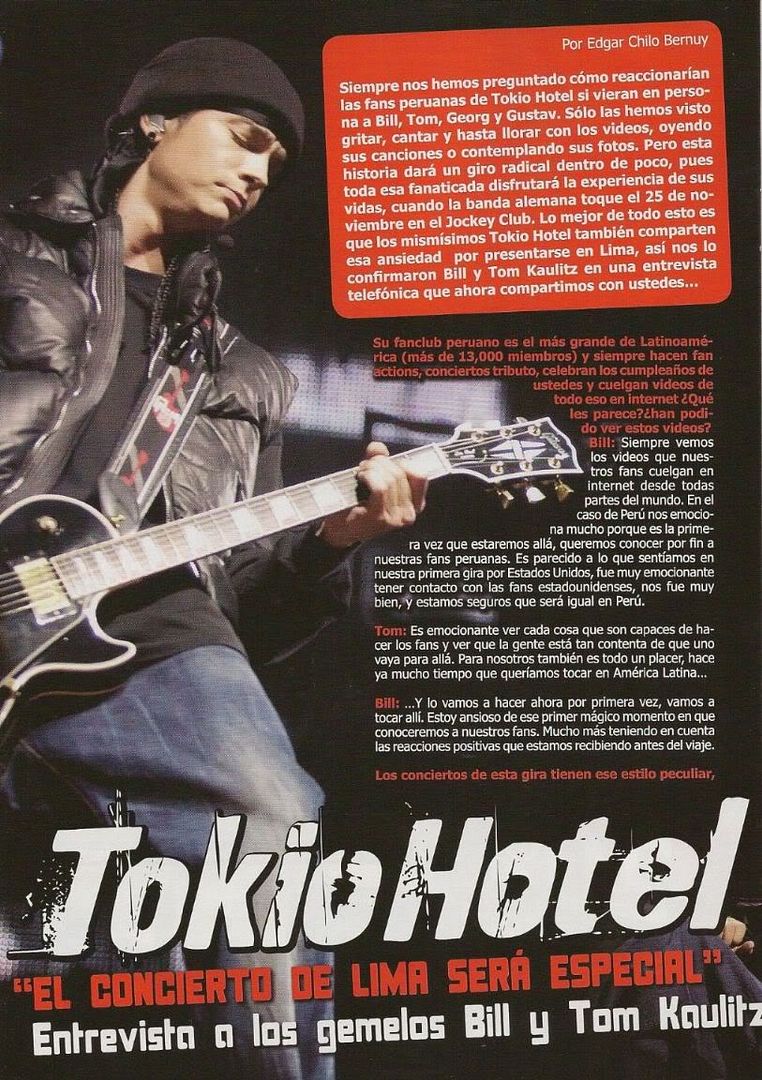 ای جاااااااااااااااااانم اینجا تام چقد نااااااااااا شده....
بقیه ر حال نداشتم آپ کنم اگه ترجمشو خواستین حتما بگین
بای
دیدگاه ها : نظرات
آخرین ویرایش:
- -